New Delhi: India's most populous state Uttar Pradesh dreams of becoming a trillion dollar economy in the next five years. Since November, Chief Minister Yogi Adityanath has been saying that a blueprint is being prepared to achieve this goal. The idea is to make UP, which contributes about 8 per cent to India's GDP, a major contributor to PM Narendra Modi's dream of making the country a $5 trillion economy.
Currently, Uttar Pradesh's Gross State Domestic Product (GSDP) – the sum of the output of all sectors of the economy – is estimated to be around $255 billion at the end of 2021-22, a quarter of the target.
In real terms (at 2011-12 prices, a measure that takes into account inflation), it stood at Rs 11.8 trillion (about $155 billion) as of March 31, 2022, according to data from the Union Ministry of Statistics and Program Implementation (MoSPI). .
Speaking to ThePrint, experts said that UP will have to grow at least 32 per cent per annum to achieve the $1 trillion target. This is a difficult figure which one might not even dream of achieving.
Yogi Adityanath's first term (2017 to 2022) saw UP's GSDP growth average 3.2 per cent annually, from Rs 10.12 trillion to Rs 11.8 trillion in 2016-17 (at real, 2011-12 prices).
Good journalism matters, even more so in times of crisis
ThePrint brings you the stories you must read, from where they are happening
We can only do this if you support us with our reporting, writing and photos.
subscribe now
In comparison, the GSDP growth rate during the government of Adityanath's predecessor, Samajwadi Party's (SP) Akhilesh Yadav (CM from 2012 to 2017), was 6.9 per cent per annum.
When he came to power, the GSDP of UP was Rs 7.24 trillion.
However, experts say that the data should be seen in context before judging someone's administrative capability. The first is that since Adityanath assumed power till now, the country was grappling with the effects of demonetisation. Second, the figures for Akhilesh's tenure are due to the development work done by him after the setback of the 2014 Lok Sabha elections.
ThePrint spoke to Alok Kumar, principal secretary (planning and program implementation), UP government and nodal officer for the 'One Trillion Dollar Economy' project, for his comment.
Kumar said he expected the growth figure for 2021-22 and 2022-23 to go up as the Indian government revised its figures after "adjustments".
development trends
In the first three years of Yogi Adityanath's tenure, the state's GDP grew by an average of 4 percent.
In 2016-17, Uttar Pradesh registered a GSDP growth rate of 11 percent, which fell to 4.4 percent by 2017-18. Its annual GSDP growth fell to 3.9 per cent in 2018-19, according to MoSPI data. And before the Corona epidemic, it was slightly more than 3.9 percent in 2019-20.
In 2020-21, when the effect of Corona epidemic started showing, then the GSDP of Uttar Pradesh decreased by 5.5 percent. In the same period, there was a decline of 5.9 percent in India's GDP.
In 2021-22, Uttar Pradesh's GSDP is projected to grow by 9 per cent, which can be attributed to the low-base effect.
The slow growth in the state's GSDP can be at least partially attributed to the decline in the state's manufacturing sector, which was projected to account for 12.2 per cent of the state's GSDP in 2021-22. It was less than 15 per cent in 2016-17.
Under Akhilesh Yadav's government (2012-2017), the industrial sector—of which manufacturing is a sub-sector—grew at a rate of about 10 percent (compounded annually) every year.
In the first three years, the industrial sector grew by an average of 2 percent every year. The growth was 15 per cent in 2015-16 and 28 per cent in 2016-17.
According to data available with the UP Economics and Statistics Department, the growth rate in the manufacturing sub-sector was 26 per cent in 2015-16 and 47 per cent in 2016-17.
Meanwhile, the industrial sector shrank in real terms during Yogi Adityanath's tenure.
In 2016-17, the industrial sector of Uttar Pradesh grew at the rate of 28 per cent, but it decreased by 4.7 per cent in 2017-18. Despite the low base, the growth of the industrial sector was 1 per cent in 2018-2019 and 3.5 per cent in 2019-2020. During the pandemic, it declined by 6.2 per cent and then increased by 10 per cent in 2021-22.
Similar trends emerge in other areas as well. The average annual growth in agricultural production was 9.1 per cent under Akhilesh Yadav and 8.6 per cent during Yogi Adityanath's first term.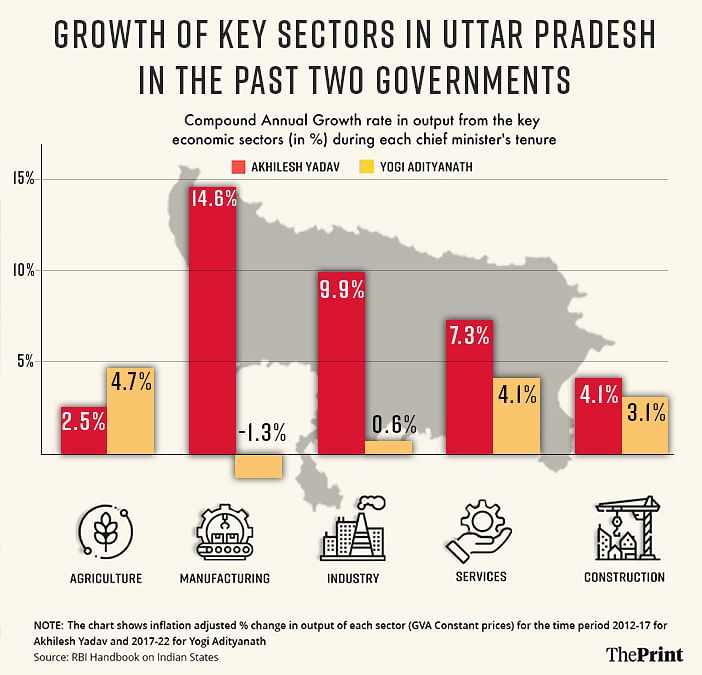 Manufacturing grew by an average of 14.6 per cent during Akhilesh's tenure and 0.6 per cent during Yogi's first term. The service sector grew by 7.3 percent under Yadav's leadership and 4.1 percent in the Adityanath government. Construction increased by 4 percent under Akhilesh Yadav's rule and 3.1 percent during Yogi's rule.
Principal Secretary Alok Kumar said that no trend can be arrived at from these figures as the manufacturing growth figures for 2015-16 and 2016-17 were "the result of old adjustments" in the central government's figures.
He said, "The high increase in the growth rate in the manufacturing sector is not only related to those years, but is also the result of adjustment of old calculations. One can understand that 47 per cent growth rate in manufacturing sector in one year is too good to be true and these figures cannot be seen as showing a trend."
The "adjustment" mentioned by Kumar does not find any mention in the data put up by the Uttar Pradesh government on its website.
When asked about the reduction in the growth rate between 2017-18 and 2018-19, he said that one cannot call it a decline. He said that the growth rate figures for 2021-22 and 2022-23 may also accelerate with the central government revising its figures after "more adjustments".
What shows the path of development of UP?
Experts give many reasons behind the development trend of Uttar Pradesh.
The first reason, he says, is that the western part of Uttar Pradesh is the center of industrial activity. ThePrint In a series on UP's GSDP published by, it was found that as of 2020, about 68 percent of Uttar Pradesh's manufacturing output came from a few districts in its western parts, which are close to India's capital Delhi.
Vikas Vaibhav, assistant professor of economics at Sonepat-based OP Jindal Global University, says, "I think Noida is contributing significantly to the state's economy. It contributes about 10 percent to the state's vast economy. If development is slowing down, then Noida (GB Nagar) should be looked into."
He said, "In Noida too, there is a need to focus on the growth of the manufacturing sector and the real estate sector. I don't think the district domestic product data has been released by UP-DES (Directorate of Economics and Statistics) after 2019-20."
Santosh Mehrotra, professor of economics at Jawaharlal Nehru University's Center for Labor Studies, said that some political-economic factors are at work behind UP's GSDP figures.
He said, "When Akhilesh Yadav became the Chief Minister, it was often said in rumors that there are 4-5 CMs in the state. Akhilesh himself, his father and some of his uncles. Who was conservative in his approach towards the management of the state. After losing the 2014 Lok Sabha elections [सपा ने 5 सीटें जीतीं]Akhilesh realized that in order to be re-elected as CM, he needed to take full control of economic output and make up for the loss in the first two-three years."
Mehrotra adds, "Yadav, an engineer and MBA, took business seriously, so the last two years of his tenure saw the completion of several highways, the Lucknow Metro and other major developmental projects. This is the reason why an increase in GDP numbers can be seen in those years and it is understandable.
Mehrotra said, the demonetisation of 2016 must have affected the development of Uttar Pradesh as well.
He said, "Uttar Pradesh is a labour-surplus state. After demonetisation, many small and micro enterprises in the state were facing cash crunch. These enterprises operate on very little working capital and mostly operate on cash. So their capacity to produce more of these enterprises till the next financial year has come down."
He further added, "Also the state is more interested in inviting big personalities to its big Global Investor Summits. But they will set up large-scale enterprises only when the state claims to be completely free of mafias, which the present government is fighting."
Talking about the state's $1 trillion ambition, Mehrotra suggested that it is a difficult and lofty target.
He said, "Forget quadrupling the size of the economy, even if it has to double the size of its GDP in this time, it will have to grow by more than 14 per cent in real terms, a target that the state has never achieved."
Vaibhav agreed that this target is a bit too optimistic.
He said, "In my understanding, despite the good intentions of the government (and its officials), the economy of UP is not doing well. This is in line with the standard economic understanding that the government can only act as a facilitator/enabler rather than being the prime mover in economic development."
He said that good intentions alone cannot be enough to achieve the goal.
(Editing: Rishabh Raj)
(Click here to read this news in English.)
---
Also read: Pew survey claims – people think the same about legal abortion in India and America
---