Pandharpur: An engineer by profession, a farmer, a seller of LPG cylinders, a student and a homemaker from Mumbai were among the Warkaris who walked 250 kms on foot chanting "Mauli mauli (God)" to reach Maharashtra. K reached Pandharpur in Solapur district. All these people were singing Abhang (devotional songs) and playing the traditional instruments Taal and Mridangam.
This was the setting for 'Vari' which is an annual pilgrimage performed by pilgrims, also known as Warkari. The pilgrimage, which began at Alandi and Dehu in Pune in early June, culminated at the Vitthal-Rukmini temple in Pandharpur on Ashadhi Ekadashi (Thursday). This year Telangana's party Bharat Rashtra Samithi (BRS) tried to take political mileage out of this visit.
The presence of BRS chief and Telangana CM K. Chandrasekhar Rao during 'Vaari' made national headlines. Along with this, the Maharashtra government led by Eknath Shinde also made efforts to show its strength. When the video of the mob at Alandi in Pune district, where 'Vaari' begins, and the police trying to stop the warkaris went viral, it gave the opposition parties in the state an opportunity to attack.
All political parties are trying to woo the Warkaris. One reason for this is that this community represents only a part of Maharashtra. Its followers rise above caste, gender and class and show their devotion towards saints Dnyaneshwar, Tukaram, Namdev, Eknath and Muktabai. Warkari is not a follower of any particular caste or religion.
Babasaheb Chorghe, dressed in white and wearing a cap with 'Mauli' printed on it, said, "There are no caste-based differences here. Tolerance and inclusiveness is the essence of 'Vaari'. Just like the sunlight is for everyone and no one has a share in the raindrops. There is no man, no woman, no upper caste, no lower caste here. We are all just Varkari."
Good journalism matters, even more so in times of crisis
ThePrint brings you the stories you must read, from where they are happening
We can only do this if you support us with our reporting, writing and photos.
subscribe now
Claiming no affiliation to any political party and also claiming no affiliation to any caste, Warkari says they have their roots in the Bhakti movement, which espouses the desire to connect directly with God, transcending the rules and rituals imposed by society.
Chorghe, who hails from Karad in Satara district and works as a delivery partner for a medical company in Mumbai, said he started his first 'vaari' at the age of eight. "This is my 47th year," he told ThePrint.
The annual pilgrimage to 'Vari' is believed to have begun in the 13th century with the pilgrimage of Saint Dyananeshwar from Alandi to Pandharpur to worship Lord Vitthal and his consort Rukmini. According to local police, like Chorghe, around 1.5 million devotees from across Maharashtra joined the pilgrimage this year to "immerse themselves in devotion" for 21 days till Ashadhi Ekadashi.
This time the Pandharpur pilgrimage route was full of banners, posters, hoardings put up by political parties everywhere. In these banners, leaders of political parties have been shown welcoming Warkaris dressed as pilgrims.
According to political analyst Prakash Bal, the involvement of politicians in 'Vaari' can be traced back to the last decade.
He said, "The Waris or Warkaris had nothing to do with any religion. But Hindutva leaders registering their presence in 'Vari' seems like an attempt to spread Hindutva among them. For decades the state government has been providing facilities for the Warkaris and even the chief minister used to perform the puja. But, earlier the involvement of the government was limited to this only."
Bal said that for politicians, warkari is only a vote bank. He said, "This is the reason that banners and posters of political parties can be seen as far as the eye can see. This was not the case till a few years ago.
However, according to Chorghe, "These politicians are only doing their marketing. It is just business for them. And stay away from warkari business.
'There is no pain in the feet because devotion is paramount'
The 'Vari' begins in the first week of the month of Ashadha (the fourth month of the Hindu calendar), from the temple of Lord Vitthal in the towns of Alandi and Dehu, near Pune.
Warkari is a mixed demographic and includes senior citizens as well as children along with parents. All the people involved wear simple clothes consisting of a basic cotton kurta or simple saree and very little jewellery. The people involved in this never shows their social and financial status.
They say, when they start 'Vaari', they keep all their worldly troubles aside. The only task before them is to reach the ghats. He travels on foot in the scorching heat and sometimes in heavy rain.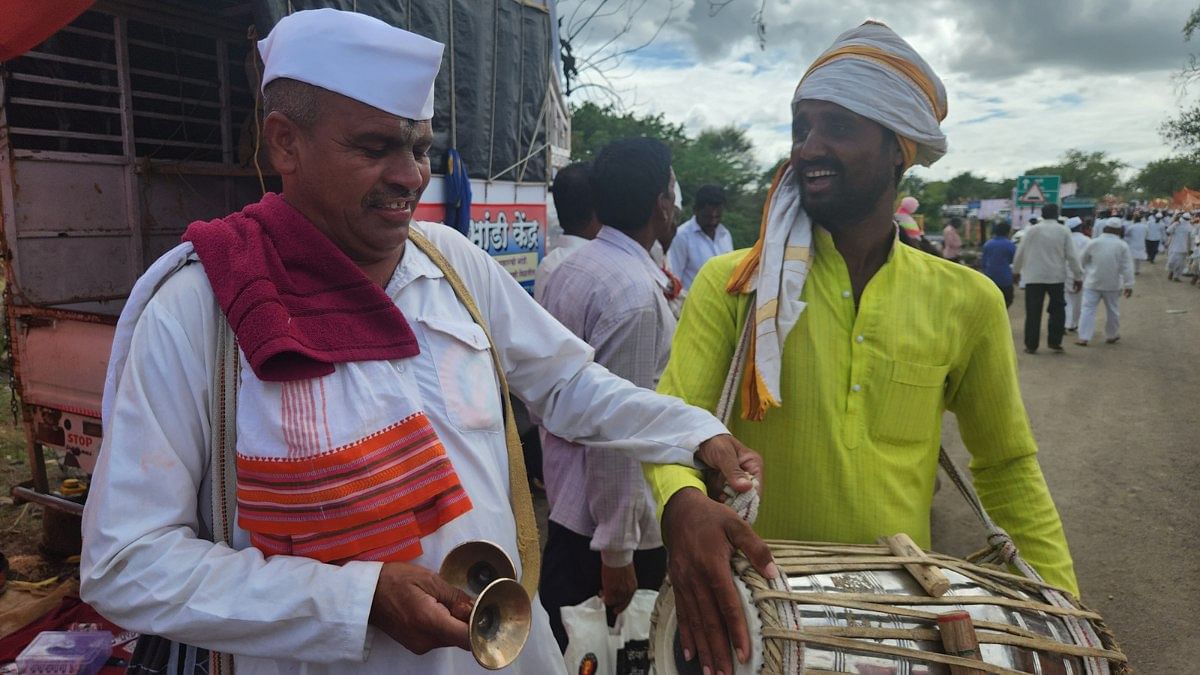 Mumbai-based warkari Narendra Kirtikar says, "Our skin was burning from the heat for three days. I felt that I would not be able to walk anymore, but on the fourth day it started raining and I kept walking with renewed vigour. There is no pain in my feet because devotion is paramount. You can't get an experience like this anywhere else." Narendra Kirtikar started his pilgrimage from Alandi.
The most important part of 'Vari' is the palanquin of saints organized by temple trusts, which is followed by several dindi (processions). It has been said in the media reports that this year there were 43 palanquins in Vari. But the oldest and most revered are the palanquins of Dnyaneshwar and Tukaram in which their padukas (representations of their feet) are kept.
Last Thursday, thousands of devotees wearing Ektari Veena in one hand and black tika on their forehead entered the temple of Pandharpur chanting the name of God. Most of these villagers come from Maharashtra. All of them were chanting "Mauli mauli, Dnyaneshwar, Tukaram, Namdev, Eknathgyaneshwar, Tukoba mauli".
Many women were walking in 'Vari' wearing traditional nine yard saree and singing Abhangs of Lord Vitthal, Saint Dnyaneshwar and Tukaram. At the same time, some Fugdi (by closing hands and moving in a circle) was playing. Some people had put Tulsi Vrindavan (Basil plant) on their heads.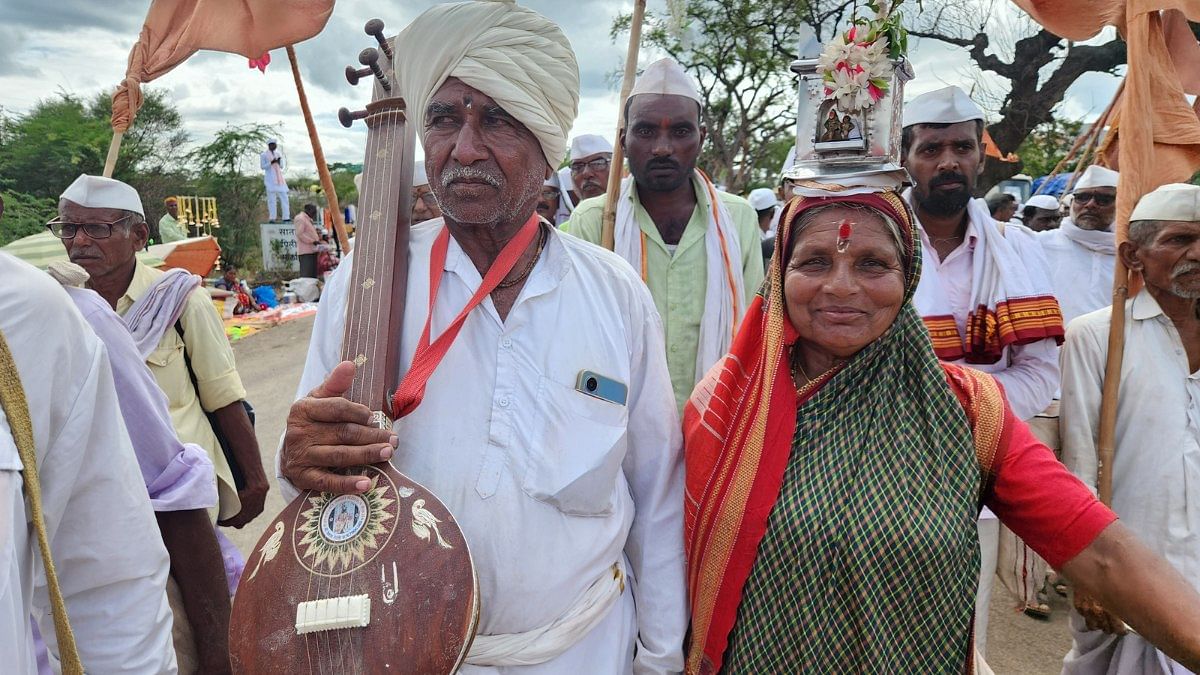 Rohini Jamble, who came from Jalna to participate in 'Vaari', said, "It is a symbol of Rukhmai (Rukmini), so as a mark of respect we never put it down or even keep it in our arms ." Jumble, a farmer, said, "We just pass it from one head to the other."
After this the Varkaris reached the banks of the Chandrabhaga river, where the temple of Lord Vitthal and Rukhmai is situated, for a bath before seeing their Lord.
The pilgrims ThePrint spoke to had been doing 'wari' – an annual family tradition – for two or three decades.
Sixty-one-year-old Harikishan Bhatkal of Jalna, who 'sells LPG cylinders', said he started walking 'Vari' because of his uncle and grandfather. In his 35th year, he is joined this time by his son.
Vishan Baviskar, a 22-year-old engineering student from Mumbai, was the first born in a Warkari family. Baviskar, who also battled illness while doing 'Vaari', said, "I could not join earlier because of my studies. When I see an old man of 70-75 years walking, I realize there is so much to learn, I have hardly done anything in life."
'Politics doesn't work in our community'
Last year, Prime Minister Narendra Modi inaugurated a rock temple at Tukaram's temple in Dehu. This was seen as an outlier.
This time, the Eknath Shinde-led Maharashtra government announced an insurance scheme for warkaris. According to media reports, it covers the period of pilgrimage and allows pilgrims to submit claims under various heads.
CM Shinde, who visited Pandharpur on Ashadhi Ekadashi and performed traditional puja at the temple, visited the temple town on Monday to 'inspect the preparations'.
According to the police near the temple, around 7,000 Maharashtra police personnel were deployed in Pandharpur to maintain law and order and ensure the safety of the pilgrims.
Meanwhile, Telangana CM KCR, who is trying to expand his party in Maharashtra, visited Pandharpur on Tuesday. He also addressed a public meeting in the temple town, but his request to shower flower petals on the warkaris from a helicopter was refused.
Sitaram Bhendekar, a 30-year-old farmer and musician and drummer in Dindi, told ThePrint, "We are just children of Mauli. Politics doesn't work in our community. We have come here because of devotion."
(Editing: Rishabh Raj)
(Click here to read this news in English)
---
Also read: The name of the city of Aurangabad may have changed, but the politics of Aurangzeb is still alive in Maharashtra
---