Bhopal: There was a festive atmosphere at Madhya Pradesh Congress headquarters Indira Bhawan on Saturday as it was prepared to welcome new entrants to the party. The fact is that the nine new members were former Bharatiya Janata Party (BJP) leaders from eight districts of Madhya Pradesh, who left the ruling party to join the Congress.
The party headquarters in Bhopal was decorated in party colors and patriotic songs were playing in the background as the nine leaders formally joined the party in the presence of state Congress chief Kamal Nath and national general secretary Randeep Singh Surjewala.
This was the latest in a string of incidents of defection from the state BJP. Two days later, on Monday, Mahendra Bagri, a former BJP MLA from Panna district, joined the Congress at Kamal Nath's residence in Bhopal.
At least 30 BJP office-bearers and leaders, including a sitting MLA, a former Member of Parliament and six former MLAs, have joined the Congress in the last five months, ThePrint has learnt.
Influenced by the leadership of State Congress President Kamal Nath ji, former BJP MLA from Gunnaur assembly of Panna district Mahendra Bagri ji left BJP and joined Congress.

"Kamal Nath, leader of the people" pic.twitter.com/XYtDFgiFIH

— MP Congress (@INCMP) September 4, 2023
Good journalism matters, even more so in times of crisis
ThePrint brings you the stories you must read, from where they are happening
We can only do this if you support us with our reporting, writing and photos.
subscribe now
According to sources in the Madhya Pradesh Congress, at least 40 leaders have joined the Congress in recent weeks, of whom more than 30 were earlier in the BJP. Sources said many of these former BJP leaders will be pitted against BJP heavyweights and loyalists of Union minister Jyotiraditya Scindia in the upcoming assembly polls with a view to take advantage of the 'BJP vs BJP' contest in key constituencies.
Prominent names among those 30 include Deepak Joshi, son of three-time former MLA and former Chief Minister Kailash Joshi, who when he joined the Congress in May this year, reportedly accused the BJP of neglecting its core workers. Imposed. Another important leader to leave the BJP was Hemant Laria, brother of Narayawali BJP MLA Pradeep Laria, who told the media that he was angry with the party for not giving him tickets for the local body elections last year.
Those who joined the Congress on Saturday included Birendra Raghuvanshi, MLA from Kolaras constituency in Shivpuri, and two-time former MLA Bhanwar Singh Shekhawat, who lost to the Congress candidate in Dhar's Badnavar assembly constituency in the 2018 polls.
Indicating that there could be more defections, MP Congress media cell president K.K. "The same BJP that called for a Congress-mukt Madhya Pradesh will now see a BJP-mukt Madhya Pradesh at the time of assembly elections," Mishra told ThePrint on Tuesday. Mishra claimed that several other sitting BJP MLAs would also "join the party (Congress) soon".
Rejecting claims that these leaders joining the Congress reflects poorly on the party, state BJP spokesperson Hitesh Bajpayee termed it as "poll pretense" by the leaders who felt they were denied tickets due to their lack of winning ability. Will not be found. "People leaving the BJP are doing so purely on the basis of local equations," he told ThePrint. It has nothing to do with any leader. This trend of leaving and joining the party will continue till the ticket distribution is over."
The Congress has also suffered some losses due to its state media coordinator Narendra Saluja, spokesperson Shivam Shukla, former Rewa MLAs Abhay Mishra and Neelam Mishra joining the BJP. Behind the husband and wife Abhay and Neelam were also their supporters, including District Panchayat member Sundaria Adivasi, District Congress Vice President Mishrilal Tiwari and Zilla Parishad member Rajendra Singh.
---
Also read: Dalit murdered in MP: Family said it was revenge for harassment, Congress attacks BJP
---
'BJP leaders and workers are feeling neglected'
While the Congress is yet to announce its first list of candidates, functionaries have indicated that targeting senior BJP leaders will be an important part of the party's strategy for the assembly polls due later this year.
Addressing a press conference in Bhopal on Saturday, Congress in-charge of Madhya Pradesh, Randeep Singh Surjewala said, "In 2018, 13 BJP ministers had lost and this time, it will be exactly the reverse." [अंकों में बदलाव का संकेत देते हुए] And 31 ministers of BJP will lose."
Many Congress leaders who joined the BJP under Scindia in March 2020 – which led to the fall of the then Kamal Nath-led government in Madhya Pradesh – have since returned to the Congress. These include former member of the state BJP executive committee Baijnath Yadav from Shivpuri, district vice president of BJP in Shivpuri Rakesh Gupta and prominent OBC face Samandar Patel from Jawad in Neemuch, who was once counted among Scindia's supporters.
Demonstrating his "ghar wapsi", Baijnath led a convoy of over 400 cars, along with several BJP district-level functionaries, covering 300 km from Shivpuri to Bhopal in June this year before joining the Congress. Did. Reiterating this, last month Samandar Patel led a convoy of more than 500 cars from Neemuch to Bhopal, where he was inducted into the Congress.
Writer and political analyst Rashid Kidwai said that the leadership of Congress in this election will be completely in the hands of Kamal Nath with little or no interference from the central leadership, whereas this is not true for BJP.
He told ThePrint, "As for the BJP, the leadership of the party in the state will not be completely in the hands of Shivraj Singh Chouhan. Many senior leaders including Amit Shah and Jyotiraditya Scindia will speak. There are at least 50 such seats where many leaders have stake, due to which the workers are feeling neglected."
Senior BJP leaders have indicated that they are being sidelined. Earlier this week, former chief minister Uma Bharti was asked about not being invited to attend the party's pre-poll 'Jan Ashirwad Yatra'. "Perhaps they are nervous that if I am there, the focus will be on me," she told reporters in an apparent jibe at her allies in the Madhya Pradesh BJP.
Commenting on her statement, political analyst Dinesh Gupta told ThePrint, "Like Uma Bharti, there are other senior leaders like former Barwani MP Makhan Singh Solanki who feel they are not being given the space they deserve in the party. They are entitled." It also shows the failure of the top leadership of the party to pacify these angry leaders.
Gupta said, "This is not the first time that these differences have come to the fore between different leaders. This problem has been there for almost two years, but the BJP failed to persuade its disgruntled leaders.
Many high-profile leaders joined Congress
Many of those who have left the BJP and joined the Congress in recent months are either leaders from Scindia's stronghold of Gwalior-Chambal or have expressed their dissatisfaction with Scindia loyalists being given prominence in what was once their region. .
At the time of joining the Congress last week, Kolaras MLA Raghuvanshi and former MLA and RSS functionary Shekhawat, who also served as Apex Bank chairman, both alleged corruption and political harassment by Scindia loyalists Was.
Impressed by the leadership of State Congress President Kamal Nath, MLA Virendra Raghuvanshi, former MLA Bhanwar Singh Shekhawat, Guddu Raja Bundela, Arvind Dhakad from Shivpuri, Ms. Anshu Raghuvanshi from Guna, Dr. Keshav Yadav from Bhind, from Bhopal Dr. Ashish Aggarwal ji and from Narmadapuram… pic.twitter.com/OfTskpEgX6

— MP Congress (@INCMP) September 2, 2023
Raghuvanshi accused Pradyuman Singh Tomar and Mahendra Singh Sisodia – both Scindia loyalists and ministers in the Shivraj-led BJP government – ​​of corruption and delay in development works. On the other hand, Shekhawat, a Scindia loyalist and a vocal critic of state minister Rajvardhan Singh Dattigaon, had even alleged that "loot and corruption reached its peak after Scindia and his supporters joined the BJP".
Deepak Joshi, a three-time former MLA from Dewas district, was a minister in the Shivraj government before losing to Congress's Manoj Chaudhary in the 2018 assembly elections. However, in 2020, Chaudhary became one of the more than 20 MLAs who joined the BJP along with Scindia.
While joining the Congress in May, Joshi had told the media, "There is no place for the ideology of the Jana Sangh in the BJP. BJP has become a hi-tech party in which there is no place for common workers.
Earlier, in March, late BJP leader Deshraj Yadav's son Yadvendra Singh Yadav, a three-time former MLA from Ashok Nagar's Mungawali seat, joined the Congress. Yadav also reportedly accused the BJP of neglecting its workers after the entry of Scindia and his loyalists.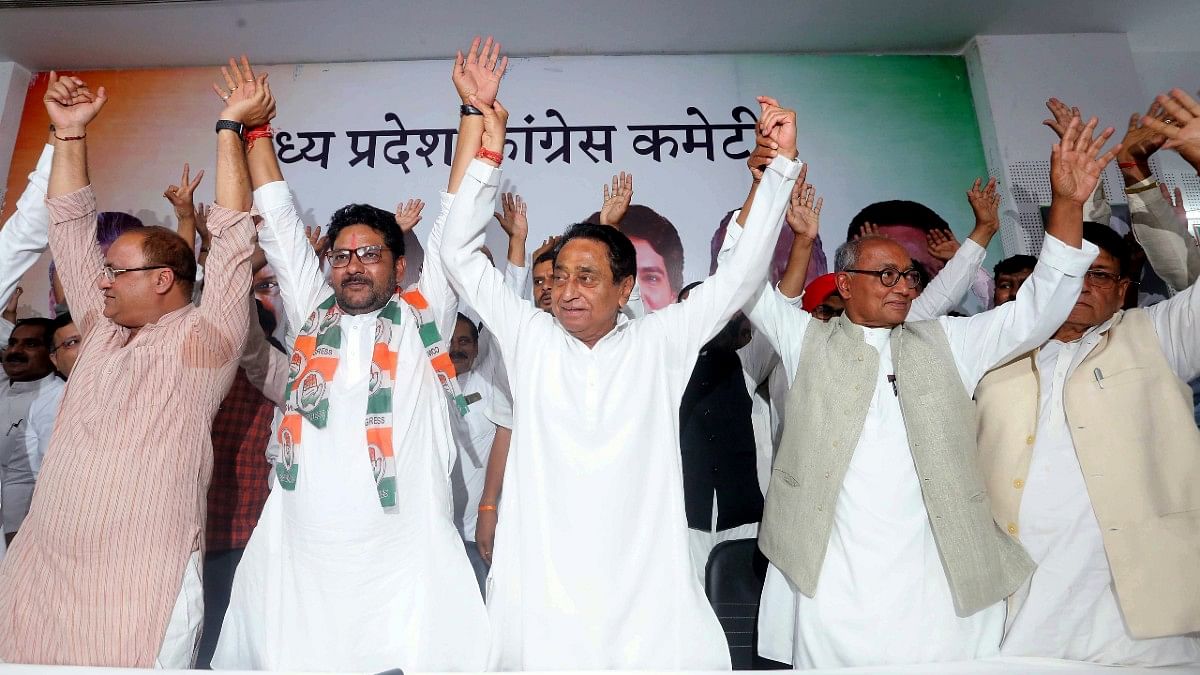 Others who joined the Congress in recent months include senior BJP leader Awadhesh Nayak, former RSS functionary from Datia and Rajkumar Dhanora. Dhanora, a party leader from Surkhi, has alleged that he was targeted by State Transport Minister Govind Rajput.
On its part, Congress is leaving no stone unturned to enhance its electoral prospects. It even inducted former Chambal dacoit Malkhan Singh and mountaineer Megha Parmar – who were earlier the faces of the 'Beti Bachao, Beti Padhao' campaign in Madhya Pradesh – into the party to give momentum to its campaign.
Parmer comes from Sehore, the home district of Chief Minister Shivraj Singh Chouhan.
Two other high-profile people who have joined the Congress are poets Anjum Rahbar and Vikram Mastal. Anjum Rahbar – wife of famous Urdu poet late Rahat Indori – who was earlier in the Aam Aadmi Party (AAP) and joined the Congress in Indore last month. At the same time, Vikram Mastal played the role of Lord Hanuman in the TV adaptation of Ramanand Sagar's Ramayana. In July, he was inducted into the party by Kamal Nath at the Hanuman temple built by him in Chhindwara.
(Editing: Shiv Pandey)
(Click here to read this news in English.)
---
Also read: VHP women members beat up Muslim book seller for 'misbehaviour' in Ujjain
---