Raichur/Yadgiri/Kalburgi: In the Sunder Nagar slum in Karnataka's Kalaburagi, human excreta is strewn on the streets, open drains stink in the neighborhood and water supply comes for an hour once in five days.
Scheduled Caste (SC)-dominated slum dwellers have a lot to complain about, but lack of civic amenities does not seem to be a major factor when it comes to their voting preferences in the state's May 10 assembly elections. Is.
Muralidhar Upadhyay, a resident of Sunder Nagar, told ThePrint that the Congress has always neglected the SC-Left, but the BJP has carried out development work in sub-caste-dominated areas, which experts consider historically the most oppressed. Sunder Nagar is predominantly dominated by the SC-Left, which traditionally leans towards the Bharatiya Janata Party (BJP).
Upadhyay asked, "These roads that you see here have been widened by the BJP. For 40 years, the Congress and (party president) Mallikarjun Kharge ignored us. Now before the elections they are trying to woo us. Why should we vote for him?".
This may come as a disappointment for the Congress, which was hoping to reap political dividends from the appointment of Kharge, a Dalit from Kalburgi, as the party's national president last year.
Good journalism matters, even more so in times of crisis
ThePrint brings you the stories you must read, from where they are happening
We can only do this if you support us with our reporting, writing and photos.
subscribe now
Kharge belongs to the Holeya community (SC-Right), which is considered somewhat more privileged than the SC-Left. According to community experts, the opposition party is hoping that the Kharge factor will cut into the votes of the state's nearly 40 per cent Dalit population, who see themselves as 'SC-Left'.
The Scheduled Caste community in Karnataka is divided into four groups – 'Right', 'Left', 'Untouchables' and 'Others'.
Advocate S Marappa, a resident of Raichur and a member of the SC-Left sub-category, claimed that the classification came from an incident in Tamil Nadu dating back to the 8th century.
He said, "The goldsmiths (who Teacher A temple run by Brahmins was attacked by Brahmins who wanted to capture it. At that time, in order to take sides, some untouchables supported the Brahmins. Others supported the goldsmiths. Those who went with the brahmins came to be called 'right wing', while those who sided with the goldsmith came to be called 'left wing'. Essentially, the 'Leftists' were a sub-caste of revolutionaries."
On the other hand, Dasanur Kusanna, an expert on caste issues from the Institute of Social and Economic Change (ISEC), told ThePrint that 'Left' and 'Right' were "professional categorisations".
Kusanna explained, "The right side includes all communities related to land based occupations, while the left is non-land based and were in occupations like painting, leather work, scavenging and others, that was the reason they were more oppressed and were denied access to most public places used by other caste Hindus."
He said, "Slowly, rigid casteism and social constraints forced them to live in submerged coaches. So, he never reconciled with anyone."
According to James Manor, a political scientist and emeritus professor of Commonwealth Studies at the University of London, many caste groups do not identify themselves as 'left' and 'right', but cling to a sense of caste solidarity.
Manor said, "In Karnataka they are not as conflict-prone, not as bitter as in Andhra Pradesh and Telangana with similar divisions between Dalits of the Right and the Left. The division there is totally contradictory, while the division in Karnataka is less bad."
---
Also read: 'Lack of development but trusting Hindutva', people of coastal Karnataka are with BJP despite unfulfilled promises
---
Congress to strengthen SC-rights in Hyderabad-Karnataka region
In the Hyderabad-Karnataka or Kalyana Karnataka region, which is considered the poorest in the country, the Congress is trying to consolidate its vote bank of SC-rights and 'others'. It has not given a single ticket to any SC-Left candidate in the region.
The region has 41 assembly seats, of which the Congress won 21 and the BJP 15 in the 2018 elections.
A Karnataka Congress functionary told ThePrint that the Congress strategy is broadly two-pronged as far as the Scheduled Caste community in the Hyderabad Karnataka region is concerned.
The first aspect is caste enumeration, while the second is related to guarantees in the party's manifesto.
The functionary said, "In the entire Kalyana Karnataka belt, we have not given even a single seat (ticket) to the SC-Left. We have given more seats to Bhovis and Banjaras (Chhoots). The number of seats for SC-Right is the same as last time,"
He said, "Usually we give ticket to SC-Left community from Gulbarga Rural seat but this time it has been given to a Banjara. Another seat in Raichur for which ticket is usually given to SC-Left has been given to Bhovi community. We are focusing on the votes that will make a big difference."
To woo the SC-Left, the Congress in its manifesto has promised to fulfill one of the group's biggest demands—table the Sadashiv Commission report in the first session of the Karnataka Assembly if the party is voted to power this year Will go
Please tell that Justice A.J. The Sadashiva Commission submitted a report to the Sadananda Gowda-led Karnataka government in 2012, recommending internal reservations for communities among the Scheduled Castes.
To give representation to the SC-Left within the party, the Congress appointed B.N. Scheduled Caste-Left leader Chandrappa was appointed as the working president in the state in April.
Congress MP and Karnataka leader Naseer Hussain told ThePrint, "There should be social justice for all groups. How can we get them to take affirmative action? How do we see that every caste is represented in development and progress? For this we need to make a different strategy.
Congress's strategy on SC-Left has not been lost.
Marappa said, "Out of 41 assembly seats in the Kalyana Karnataka region (for tickets), not a single one has been given to the SC-Left by the Congress. More than 18 (out of 36 reserved SC) Karnataka-wide seats have been given to SC-rights. SC touchables have been given more than 10 seats. SC-Left has been given tickets by the party for only nine seats."
He said that there is no alternative to the BJP for the Scheduled Caste-Left community.
He said, "If we leave the BJP, where will we go? I don't like the local BJP candidate here, but my vote is for BJP because PM Narendra Modi has promised development."
SC-Left and BJP's reservation bet
Shahid Patil is one of the very few residents of SC-Left-dominated Sunder Nagar who seem to lean towards the Congress.
Patil said, "They (BJP-led government in Karnataka) have proposed to increase the reservation for Scheduled Castes (Left) to 6 per cent, but within that, give 2 per cent reservation to Alemaris (a sub-caste) Has gone. This means we have 4 per cent left."
In October 2022, the Karnataka cabinet headed by Basavaraj Bommai recommended reservation of 6 per cent for SC-Left, 5.5 per cent for SC-Right, 4.5 per cent for 'touchables' and 1 per cent for 'others'.
But many of Patil's fellow SC-Left members are not impressed with the reservation issue.
"While the Congress has given us nine seats, the BJP has given us 11 seats, just two more," Govind, a Madiga (SC-Left), from an SC-dominated area in Raichur's Harijanwada, told ThePrint. Ultimately, I think our community will need to form its own party like the Bahujan Samaj Party (in Uttar Pradesh). It seems no one is ready to fight for us."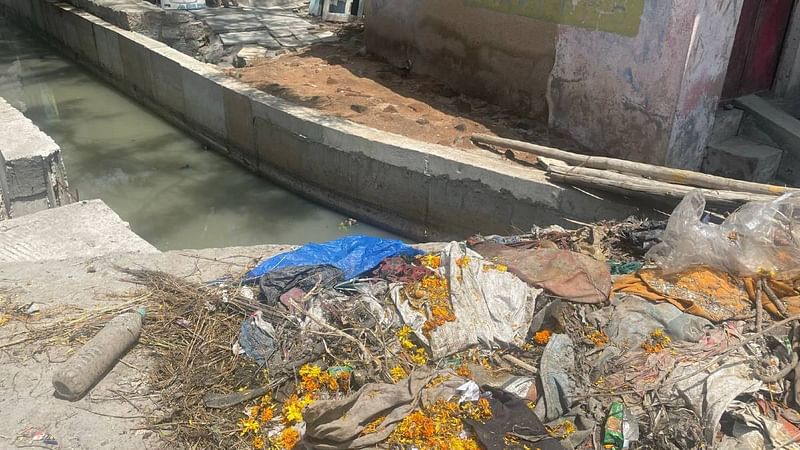 There is a sense of despair about the state of affairs, however, they cling to the hope that it may change.
Another resident of the area, Narasimharan, a Madiga, said he would vote for the BJP, as he had done twice earlier.
He said, "More than anyone else, we trust Modiji. BJP has many leaders from our community so I am sure they will work for us. I wish that our water and drainage problems get resolved. It's been 40 years and there is no water in this area."
His friend, Taiyappa, also a Madiga, said the caste pressure by all parties was just an "election gimmick".
He said, "Before elections everyone thinks about Madigas, but when they are in power, no party helps us. For example, here the housing board has not passed any loan in five years. There are no toilets in our houses. In which there is no proper drainage system. Everyone including our women has to go to the fields for defecation. Whichever party comes to power, I hope this will change."
This disillusionment of the SC-Left is of the time on which the Congress is pinning its hopes.
(Editing: Falguni Sharma)
(Click here to read this news in English)
---
Also read: 'We don't need the BJP'—why a section of Lingayats swung in favor of the Congress ahead of the Karnataka elections
---