The nutrition of the mother is important to ensure that the child has a healthy start in life, especially for the first few months, which is the period from conception to the child's second birthday. These times are likely and extremely delicate, as this is the most critical period of a child's development. In this period, the diet and care of the mother and child decide how the child will develop, learn and grow. The basis of their long-term health is also established during this period. During this, the child mainly depends on mother's milk for nutrition. That's why it is important for the mother to be healthy, so that the child's life can get a good start.
As per reports, only 50% of pregnant women in India get adequate intake of protein and energy, which is essential for a healthy baby. Nutrition is important for the development of the baby and Dr. Sujit Ranjan, Associate Director, Nutrition, Tata Trusts, gives 9 tips for 9 months of pregnancy and beyond.
Also Read: Easy Home Remedies To Boost Fertility
healthy fat Intake of
Healthy fat is also called unsaturated fat. Generally, healthy fats are important because they provide many other health benefits along with improving heart health and cholesterol. Healthy fats are essential during pregnancy for the healthy development of the baby's brain and eyes. Some rich sources of healthy fats include peanut oil, avocado, ghee and omega-3 fatty acids, which are abundant in vegetable oil, coconut oil, olive oil and fish oil. Naturally occurring healthy fats help balance the hormones of the expectant mother, reduce the chances of preterm labor, and prevent low birth weight. Along with this, it helps in the healthy development of the fetus and it is also helpful in reducing cholesterol.
eat calcium rich food
Calcium is an important component that keeps bones strong and this is important for the mother carrying the extra weight of the developing baby during pregnancy. Since the mother's body needs extra nutrients and minerals, consuming calcium-rich foods during pregnancy can provide enough energy to keep the baby healthy. Calcium-rich foods, such as dairy products, yogurt, broccoli, and green leafy vegetables, help in the development of a healthy heart, heartbeat, nerves, and muscles in your baby. These foods also reduce the risk of high blood pressure, premature birth and preeclampsia (a serious complication of pregnancy that occurs after the 20th week).
exercise easy
Regular exercise is necessary to keep the mother fit and to ensure the development of an active brain and healthy heart in the fetus. This exercise can include short walks, yoga, riding a stationary bike and low-intensity aerobics at home or work. All these exercises help expectant mothers to reduce swelling in their legs and reduce the chances of clots, which can result from weight gain during pregnancy. On the other hand, heavy exercise should be avoided,
Also read: If you are troubled by knee pain, then follow these 10 effective tips in everyday life (10 Useful Tips To Get Rid Of Knee Pain)
maintain proper hydration
It is important for future mothers to maintain a balanced body temperature during the entire pregnancy. Body temperature rises during pregnancy because the mother's heart pumps blood at a 20% faster rate. Therefore, it is important for mothers to have a constant intake of cool drinks, fresh fruits and vegetables in sufficient quantity, so that the right body temperature is maintained.
eat high fiber foods
Mothers have to regularly monitor their diabetes during pregnancy. The risk of this disease is reduced by taking more fiber foods, because they do not contain many calories. Helps in maintaining the right pregnancy weight. Foods high in fiber are also helpful in reducing the risk of coronary heart disease, stroke, hypertension, obesity and some gastrointestinal diseases. To ensure regular intake of fibre-rich foods, expectant mothers can include beetroot, oranges, apples, green leafy vegetables, oats and almonds in their diet. This food helps in regulating blood sugar and reducing the risk of heart problems.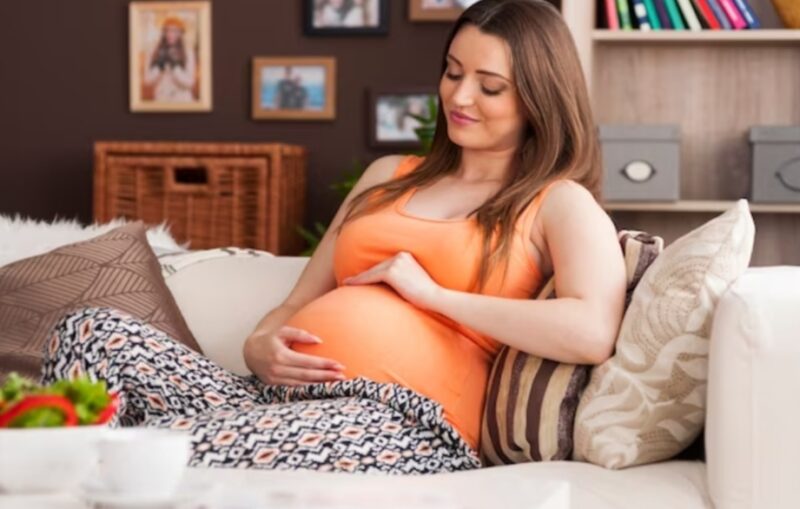 importance of folic acid
Folic acid or vitamin B9 is essential for making new cells and preventing neurological (nervous system) and spinal (spinal) defects at birth. Expectant mothers should take at least 400 grams of supplements in the form of beans, sunflower seeds, fresh fruits and their juices, and whole grains in the month before pregnancy and this amount should be 600 grams during pregnancy. Folic acid can be obtained from food sources such as dark green leafy vegetables, peas, lentils, bread, some types of pasta, beans and citrus fruits.
have a good sleep
A healthy sleep cycle helps the brain and body function properly and maintain good physical health. Pregnant women need to take 7 to 8 hours of sleep daily, as it ensures the development of the fetus in the uterus and also benefits the health after birth. However, during pregnancy, there can be discomfort while sleeping at night, so they should try to sleep on their side by bending their knees. In this way they will not only get good sleep, but their heart will pump easily and digestion will also be better.
Also Read: Our Brain Becomes Weak Due To These Bad Habits
Avoid Refined Carbohydrates
Carbohydrate foods provide essential fuel to both the mother and the baby during pregnancy. The brain needs glucose as its main source of energy. However, packaged food items, such as packaged cereals, white bread, cakes and biscuits, contain refined carbohydrates, which can cause digestive problems. Mothers should be careful to include more complex carbohydrates or starchy vegetables in their diet during pregnancy, such as sweet potatoes, whole grains, and legumes, such as beans or chickpeas, as they provide energy and are good sources of fiber
avoid caffeine
Caffeinated foods can also increase the risk of anxiety, high blood pressure, nervousness and sleep problems. In view of its effects on babies, WHO has highlighted several studies which show that excessive consumption of caffeine by the mother can lead to stunting, low birth weight, premature birth or stillbirth. There can be problems like child birth etc. Hence, future mothers should avoid the consumption of caffeine.
Photo Courtesy: Freepik
Subscribe Now Meri Saheli Digital Edition for ₹599 only and get ₹1000 Coloressence Cosmetics Gift Voucher for one year