Disha Vakani's Entry in 'TMKOC': The world's oldest and famous show 'Taarak Mehta Ka Ooltah Chashmah' is a topic of discussion these days. The show has been running for so long that it has become a part of the lives of its fans. Everyone has their own favorite characters in the show that they like to watch. But nowadays the stars who played famous characters in the show have started leaving the show. Recently, Shailesh Lodha, who played the character of Taarak Mehta, has said goodbye to the show. Earlier, the show's 'Dayaben' i.e. Disha Vakani took a break from the show and she has not returned yet. Disha has made a special place in the hearts of all the fans with her acting in the show, so people want to see her back in the show. Now the news is coming that she can return to the show.
This was the reason for taking a break from the show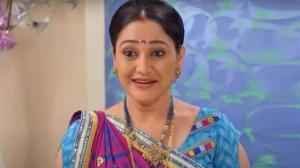 Disha Vakani, who became famous for the character of Dayaben, married in the year 2015, after which she worked continuously in the show for some time. But she has just disappeared from the show after her maternity break in 2017. From the beginning, Disha has been seen in the role of Dayaben. Ever since taking a break from having a baby, her fans are eagerly waiting to see her back on the show. But it has been 3 years since the break and she has not returned to the show completely. After 2017 she last appeared on the show in 2019 in just a cameo.
Disha had to be replaced
Due to the long break of Disha Vakani, the makers of the show were thinking of replacing her midway. Even the names of some actresses were also revealed to bring in her replacement. At that time it seemed that now a new face could be seen in the form of Dayaben. But according to the reports, now the makers are approaching her to bring back Disha Vakani once again.
Dayaben can return to the show
Now the situation is that Shailesh Lodha has given up his character of Taarak Mehta, but there is still hope for everyone's beloved Dayaben to return to the show. Bringing the character of Dayaben back in the show has now become the first priority of the makers. The show's producer Asit Modi says that it has already taken a long time to bring Daya's character back on the show and that too because Disha had just taken a break from the show but never left the show. Now the makers are trying their best to bring him back in the show. If this time also she does not join the show back then she will be replaced. However, if she returns, she may soon be seen back on the show by October or November.
Related