Roadies Fame Varun Sood Accident: A very shocking news is coming out about reality Roadies fame Varun Sood. Something has happened recently with Varun, after which the tension of his fans has increased. Recently a terrible accident happened with him, after which he directly reached the hospital. His fans are very upset after hearing this news.
Accident happened on the trip (Roadies Fame Varun Sood Accident)
Varun Sood makes a lot of headlines for his fitness. On his social media account you will see how big a fitness freak he is. Apart from this, Varun is also very fond of travelling. There are many travel videos on his Instagram. At the same time, now once again the actor had gone out to celebrate the holidays, but it was not known when the relaxed days of his holidays became a problem for him. In fact, now news has come that a terrible accident happened during the Kashmir trip with Varun Sood.
Also read: Participate in E 24 Bollywood contest and get a chance to watch Shahrukh Khan's film 'Jawaan' for free.
Varun told the reason for his condition
Let us tell you that recently Varun has informed the fans about this incident with himself on his Instagram account. Sharing a picture from his gym, he wrote- "Back from the mountains where I got hurt a lot. There were marks on the body. A horse threw me off its back. Almost threw me off a cliff and almost hit my head against a tree. Now I am back to my happy place."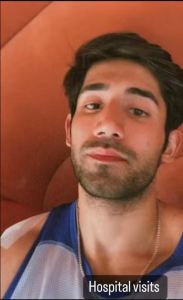 Told the problem by sharing the picture
In this gym photo, the actor is seen flaunting his body. At the same time, in his next story, he has given another important update to the fans. In the second picture, Varun is seen sitting in an auto rickshaw. He also wrote on it, "Hospital Visits." In this picture, bandage is visible on Varun's shoulder, which means that Varun is also injured on his shoulder.
related