Rani Mukherjee Saree Looks: Aging women change their style to reduce the sign of their age and look stylish. In such a situation, she follows their dressing sense to take tips from actresses and models. These days the saree styles of Bollywood actress Rani Mukherjee are trending a lot on social media.
Actually, every look of the actress is very amazing, but if we talk about her saree look, then all the fans are crazy about her. Women who are going beyond 40 can recreate Rani's saree looks to make their look classy. Let's see some saree looks of actress Rani Mukherjee which are going to be useful for you.
Rani Mukherjee Saree Style
Black color comes at the top of the list of Evergreen color. Rani Mukherjee is wearing a black color saree in this photo which is looking very nice. Rani is looking very beautiful in minimal jewelery and nude makeup look and open hair. If you are also a fan of black color and want to add something else to your saree collection, then you can recreate this look of Rani.
red saree look
If there is any worship in the house then it becomes necessary for women to wear saree. In such a situation, they have a lot of difficulty in choosing a saree. If any worship or religious ritual is going to happen in your house too, then you can get help from this look of Rani. In this photo, the actress is wearing a red silk saree. Along with heavy makeup, she has complemented her look by wearing bangles and a gold necklace. Which looks perfect. If you also carry this kind of look, then believe me all eyes will be on you.
white saree look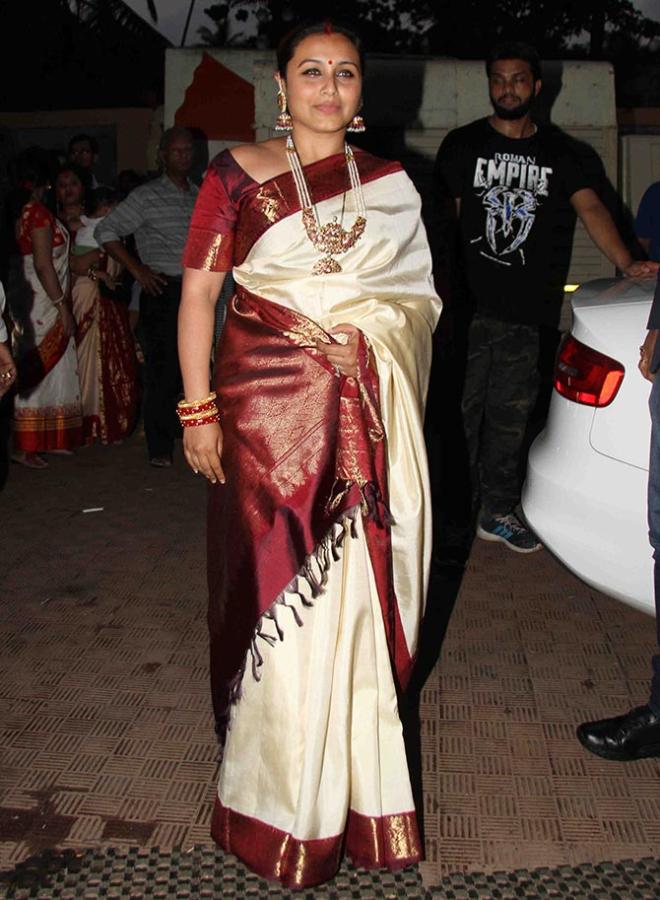 Women who are 40 years or more are very conscious about their looks. If you are also one of them, then this look of Rani can be useful for you. In this, the actress is wearing a white colored saree, whose border work is looking very nice. Together, she has completed the look with a red colored blouse and perfect makeup.
brown saree look
Any woman who follows or recreates this saree look of Rani Mukherjee in brown colour, will look 8 years younger than her age. She has matched cut sleeves blouse with this plain saree with border. Rani Mukherjee is looking very gorgeous in this look.
related