Raksha Bandhan 2023 Shah Rukh Khan Sister: Today, the festival of Rakshabandhan is being celebrated with great pomp all over the world. Bollywood celebs also celebrate every festival with great enthusiasm. On Rakshabandhan, sisters tie rakhi on their brother's wrist. Brother and sister's relationship is most special, the more they fight with each other, the more they love each other. In such a situation, a question arises in everyone's mind that what kind of relationship Bollywood celebs have with their siblings.
Read also: Big update on Aamir Khan, will the comeback be successful? Akshay Kumar can give a tough challenge on Christmas
sibling bonding
In films, Bollywood stars are seen lavishing love on their siblings, but is there really such bonding with their siblings in real life. Bollywood superstar Salman Khan's life resides in his family and he loves his siblings very much and this bond of his is often seen in his family photos. Saif Ali Khan is also seen showering love on both his sisters.
Shahrukh Khan's sister
But very few people know about the family of Shah Rukh Khan, who is called the King of Bollywood. His wife and children often remain in the limelight, but very few people know that he has an elder sister as well. Yes, you heard it right, Shah Rukh Khan is the second child of his parents as he also has an elder sister named Shahnaz Lalarukh.
name of shahrukh khan's sister
King Khan's sister Shahnaz Lalarukh prefers to stay away from the glare of the film world. Shahnaz Lalarukh comes in front of the media with his brother on very rare occasions. But Shahnaz stands by his brother in every happiness and sorrow. The superstar's children Suhana, Aryan and Abram are very close to their aunt and they often talk to her on the phone.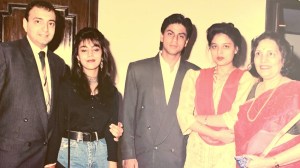 Shock of father's death
In a media interview, Shah Rukh Khan had told that his sister Shahnaz Lalarukh could not bear the shock of his father's death. Shahnaz neither cried nor gave any kind of reaction after seeing her father's dead body, suddenly she fell on the floor. Then he suffered a deep injury on his head. During that time Shah Rukh was shooting for his film Dilwale Dulhania Le Jayenge. His sister had to be taken to Switzerland for treatment.
Shahrukh's life is his sister
The actor's sister was deeply shocked to lose her parents at a young age. For this reason she was in depression for a long time. After parents, only Shahrukh took all the responsibility of his elder sister. He got his sister treated and today she is fine. Shahrukh Khan loves his sister very much and he is always at the forefront of her every help.
related