MumbaiBollywood actor Naseeruddin Shah is known worldwide for his excellent acting. Naseeruddin Shah is in the news not only for his acting but also for his outspoken statements. He is seen expressing his opinion openly on every issue, social and political.
In such a situation, recently the actor has come into the limelight due to a statement given on the Mughals. Due to which there has been an uproar on social media. During a show, he called 'Mughals as nation builders'. Now Naseeruddin is being trolled on social media for his statement.
Mughals came here to settle. They Contributed to India's Culture, Music and Left lasting Legacies. You can call them refugees: Naseeruddin Shah to Karan Thapar pic.twitter.com/uqC6aXTaz3

— MeghUpdates🚨™ (@MeghBulletin) December 29, 2021
Actually recently a video of Naseeruddin Shah is going viral on social media. During an interview in the video, Naseeruddin is talking about Muslims. During the interview, the actor is seen saying that- 'Efforts are being made to create fear among Muslims, but Muslims will never give up. Muslims will just face it because we just have to save our house. We have to save our motherland, we have to save our family and children.
At the same time, the actor further said- 'The alleged atrocities of the Mughals get highlighted from time to time. But we forget that Mughals were the people who have contributed for the cause of this country. These are the people who have made permanent monuments in the country. There is dancing, singing, painting, literature in their culture. The Mughals came here to make it their homeland. Mughals, you can call them Refugis if you want.
Oh yes ! Mughals can be seen contributing to music in Afghanistan, as they contributed to music in Bharat. https://t.co/KOqcPJz1sT pic.twitter.com/7hBDHIFYqy

— Radharamn Das Radharaman Das (@RadharamnDas) December 29, 2021
In such a situation, now this video of Naseeruddin Shah is going viral on social media. To which people are now giving their feedback. At the same time, a user tried to tell what the Mughals had done through the picture. That user told the difference between refugee and refugee.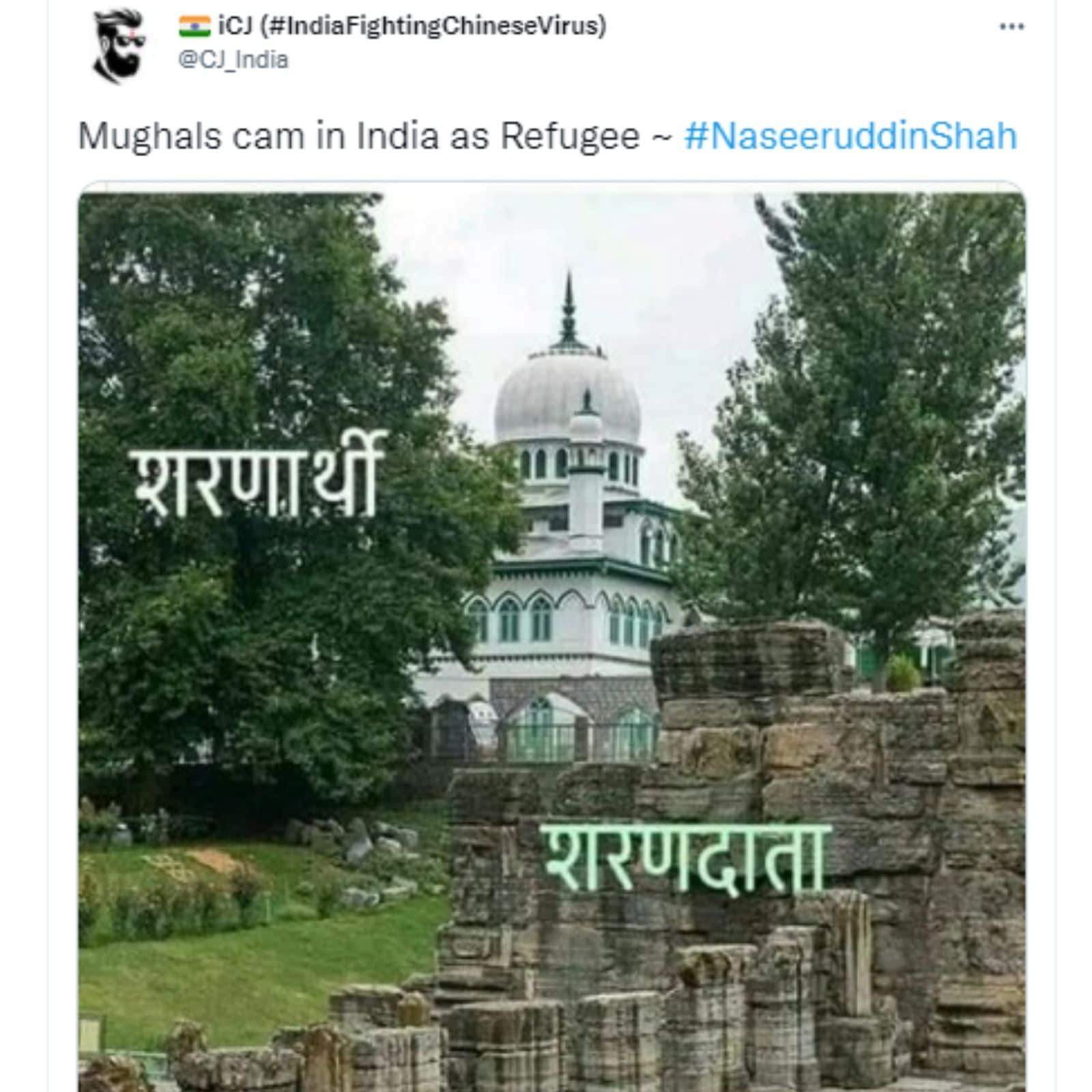 Significantly, this is not the first time that Naseeruddin Shah has made a controversial statement. This has happened many times before as well.