These Bollywood couples huge age gap: Celebrity lawyer Harish Salve married for the third time at the age of 68. The name of Harish Salve's new partner is Trina, who is 33 years old. She is of British origin. Harish and Trina have a huge age difference of 20 but both have tied the knot regardless of their age. In such a situation, today we are going to tell you about those Bollywood stars who married a person older than themselves, regardless of age. Some of those couples are still living a happy life.
Read also:This person will show 'Jawan' to 36 girlfriends, 72 ex-girlfriends, Shah Rukh Khan said- Bhai teri jawani…
Juhi Chawla-Jay Mehtat
Juhi Chawla, who has been the heroine of superstars like Salman and Shahrukh, does not need any introduction. People still like Juhi's films very much and her strong acting won millions of hearts. But in the year 1995, Juhi surprised everyone by marrying businessman Jai Mehta, 6 years older than herself. Jai looks very old now, but Juhi is still as beautiful as before.
Bhumika Chawla-Bharat Thakur
Bhumika Chawla, who made her Bollywood debut opposite Salman Khan in the film 'Tere Naam', won the hearts of the audience with her simplicity. After this film, even though the acting career of Bhumika could not show anything special. Bhumika married Bharat Thakur, a yogi teaser, in the year 2007. There is a difference of 6 years in the age of both.
Farah Khan-Shirish Kunder
The name of famous Bollywood choreographer Farah Khan is also included in this list. Farah got married to Shirish Kunder, 6 years younger than herself. Both have three children and their married life is going well. Both are often seen spending time with their families.
Kareena Kapoor and Saif Ali Khan
There is also a difference of 10 years between Saif Ali Khan and his second wife Kareena Kapoor. Before Kareena, Saif was married to Amrita Singh. There was a difference of 13 years in the age of both of them. Saif was 13 years younger than his first wife, but Amrita and Saif separated after 11 years of marriage. After divorce from Amrita, Saif married Kareena in 2012.
Kabir Bedi
Kabir Bedi has married for the fourth time at the age of 70. Kabir's fourth wife is 29 years younger than him. Kabir married model Parveen Dosanjh on his 70th birthday. His wife is much younger than his daughter Pooja Bedi and that is why Pooja was not happy with her father's marriage.
Prakash Raj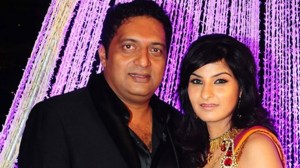 Who does not know the popular actor Prakash Raj, who started his career with South Cinema. Actor Prakash Raj has done more than one great film. South's powerful actor Prakash Raj married choreographer Pony Verma, 12 years younger than himself, after divorcing his first wife.
related