Bobby Deol-Ranbir Kapoor Airport Look: Bollywood actor Ranbir Kapoor is in the news these days about his upcoming film 'Animal'. Actor Bobby Deol is also going to be seen in an important role in this film. Recently the new song 'Arjan Valley' from 'Animal' has been released (Bobby Deol-Ranbir Kapoor Airport Look). Fans are liking this song of Ranbir's film a lot. After the release of this song, now some pictures of Bobby Deol and Ranbir Kapoor are going viral.
Also read- World Cup 2023: Stars reach Ahmedabad to watch the final match of India vs Australia, will boost the morale of the team
Pictures viral on social media (Bobby Deol-Ranbir Kapoor Airport Look)
In these pictures going viral on social media, Ranbir Kapoor and Bobby Deol are seen at the airport. These pictures of both are very much liked by the fans. Both the actors look quite handsome in the photos.
Bobby Deol's dashing style
Bobby Deol appeared in cool look in this viral picture. This picture of Bobby Deol became popular on social media as soon as it came. Ranbir Kapoor was also seen with her at the airport. Ranbir Kapoor's style seemed completely different and new. In the pictures going viral, Bobby is seen saying hello to the paparazzi.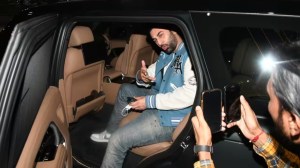 Ranbir was seen taking selfies with children
Whereas, Ranbir was seen in his cool look and was seen taking photos with the children. This photo of Ranbir Kapoor is going viral. Ranbir Kapoor was seen taking a selfie with a fan. Fans are liking this picture of Ranbir Kapoor a lot. Let us tell you that Ranbir Kapoor's film 'Animal' is going to be released in theaters on December 1.
Related