New Delhi: India has made significant progress in reducing multidimensional poverty, but the pace of this progress has been uneven. This is quite clearly visible in the national capital Delhi. In Delhi, where multidimensional poverty has reduced significantly in some districts, it has increased in other districts.
The latest Multidimensional Poverty Index (MPI) report released by NITI Aayog in July revealed that the share of people living under multidimensional poverty in Delhi has declined. Where it was 4.43 percent in 2016, it has come down to 3.43 percent in 2021.
However, this does not mean that multidimensional poverty has reduced in all districts of Delhi. Multidimensional poverty is on the rise in nearly half of the city's 11 districts.
Talking about the districts of the national capital, North Delhi has seen the highest increase in multidimensional poverty. In 2016, about 2.41 percent of North Delhi's population was under it, which will increase to 6.26 percent in 2021.
In other words, in 2016, one person in every 41 residents of North Delhi was a victim of multidimensional poverty, but five years later the figure rose to one in 16 residents.
Good journalism matters, even more so in times of crisis
ThePrint brings you the stories you must read, from where they are happening
We can only do this if you support us with our reporting, writing and photos.
subscribe now
Similarly, multidimensional poverty increased from 2.29 percent to 4.68 percent in West Delhi, from 2.16 percent to 3.15 percent in South West Delhi, from 4.16 percent to 4.83 percent in New Delhi and from 3.84 percent to 3.88 percent in Central Delhi. According to the 2011 census, these five districts together account for 36 percent of Delhi's population.
The report is prepared keeping in mind a total of 12 things in MPI. In this, poverty is evaluated beyond income including standard of living, health and education. The report is prepared using data from the last two rounds of the National Family Health Survey (NFHS) conducted in 2015-16 (NFHS-4) and 2019-21 (NFHS-5).
Despite the increase in multidimensional poverty, especially in some districts, deprivation in Delhi is only 3.43 percent of the population, which is much lower than the national poverty total of 14.96 percent.
But while Delhi has seen a reduction in multidimensional poverty across most of the 12 indicators, the education sector is a significant exception.
'Lack of school attendance'
India's reduction in multidimensional poverty is mainly a result of improvements in quality of life indicators such as access to water, electricity, etc., as ThePrint reported earlier. On the other hand, subjects like health and education still remain a challenge.
In the case of Delhi, the contribution of health and living standards to multidimensional poverty has decreased, while educational deprivation has increased.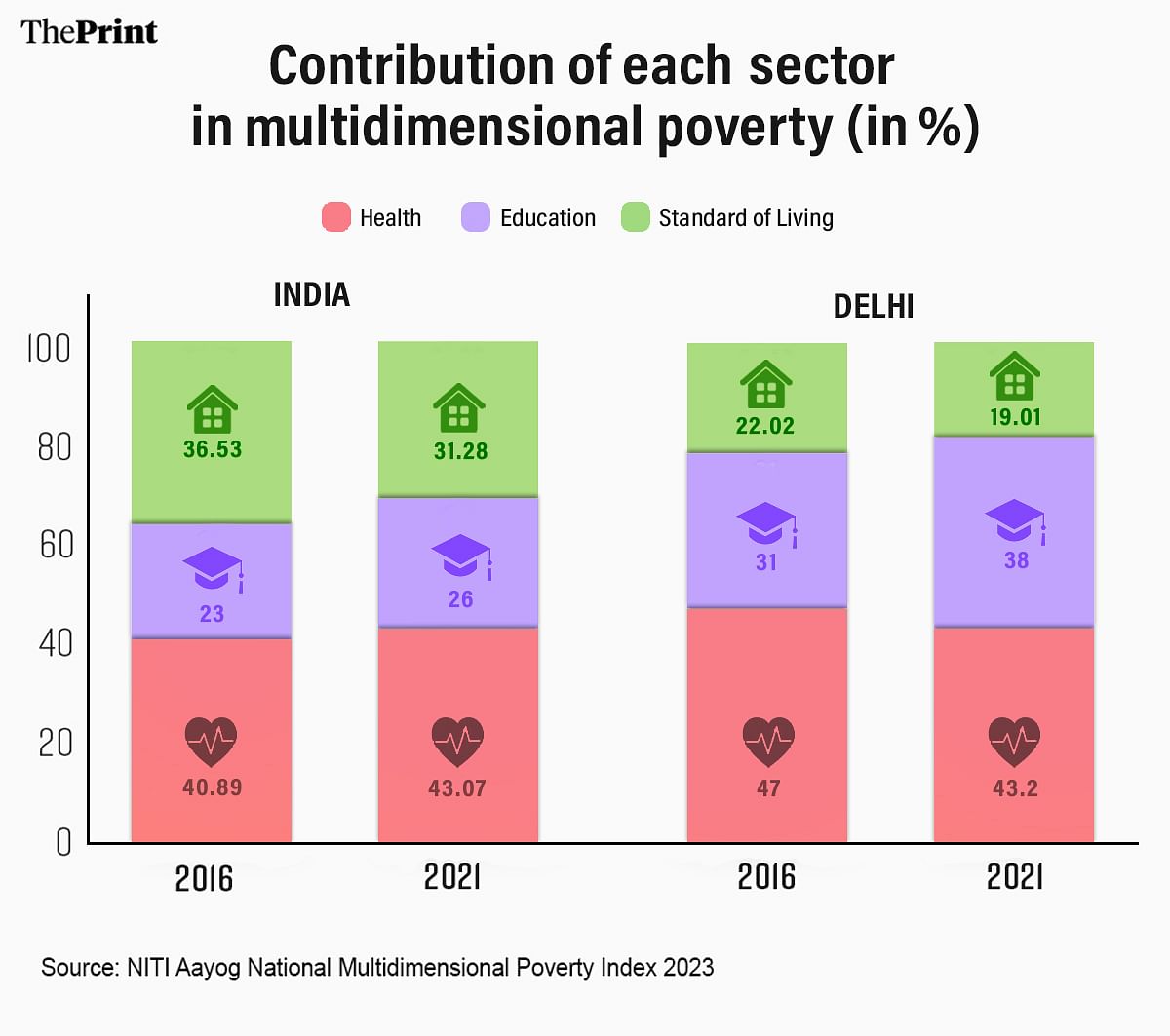 In 2016, the contribution of health to multidimensional poverty in Delhi was around 47 per cent, but by 2021 it will drop to 43 per cent. Similarly, the rest of the indicators of the standard of living, which contributed 22.02 per cent in 2016, have come down to around 19 per cent in 2021.
In contrast, the contribution of educational deprivation has increased in Delhi. In 2016, it was 31 per cent of multidimensional poverty, but it will increase to 38 per cent by 2021, an increase of about 8 per cent.
If you look at the data at a detailed level, there is a lack of school attendance of students in Delhi.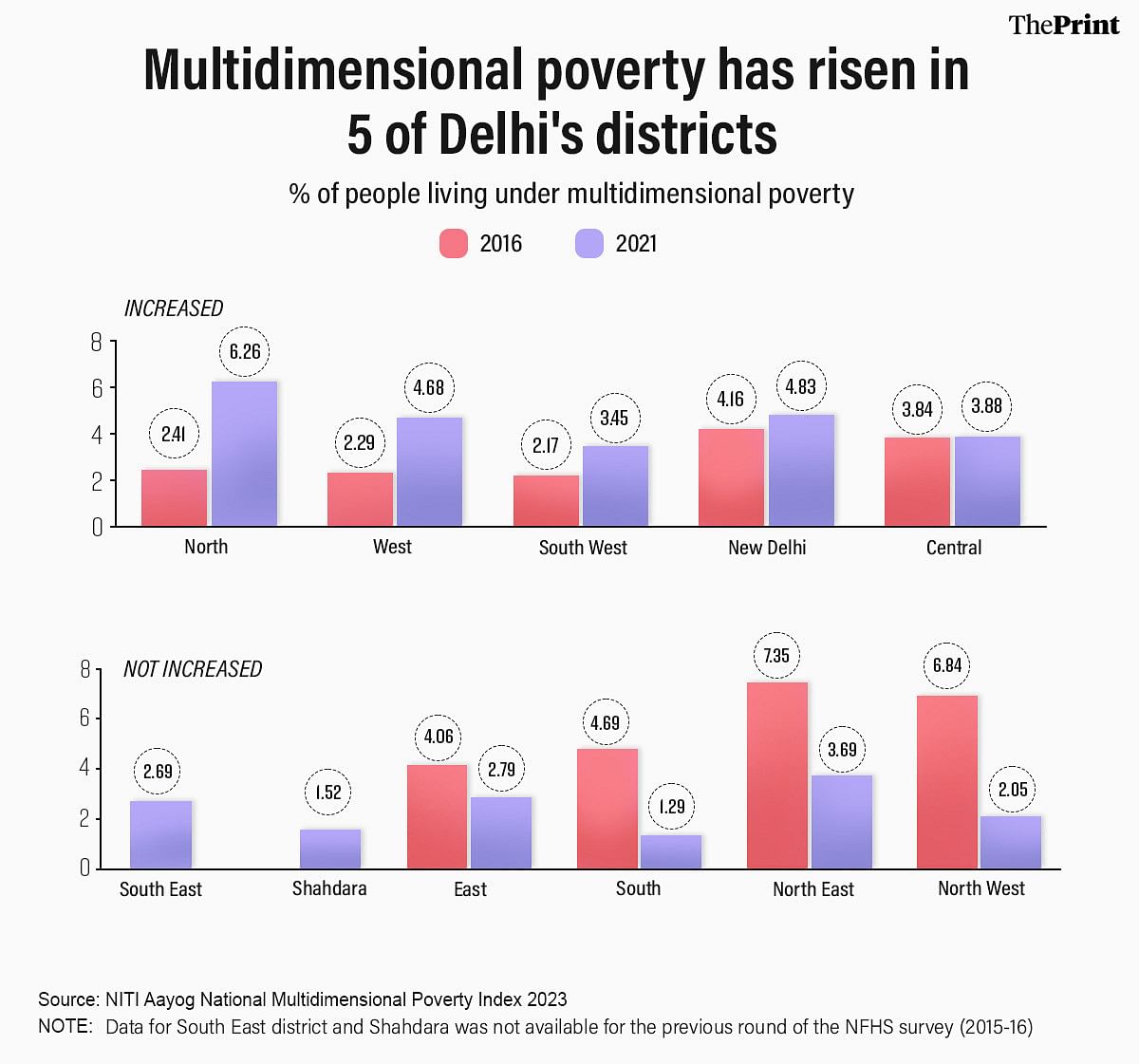 According to the NITI Aayog report, a household is considered deprived in the field of school education if "no school going child attends school by the age at which he/she would complete class 8".
In Delhi, there has been an increase in lack of school attendance between the two NFHS surveys.
In 2016, 2.63 percent of households experienced deprivation on this front, which has increased to 2.77 percent by 2021.
Simply put, in 2016, 263 out of 1,000 children in Class VIII were out of school. This number is expected to rise to 277 by 2021, indicating that an additional 14 children per 1,000 were not attending school at the age when they should have been in Class 8.
Significantly, it is not only Delhi where the decrease in school attendance has increased. Overall, the lack of school attendance in India has increased from 5.04 percent to 5.27 percent. Therefore, the increase in deprivation in Delhi is slightly lower than the national average. In short, while Delhi had 14 more out-of-school children per 1,000 in 2021 than in 2016, the countrywide average was 21 percent.
'More data needed'
It is difficult to draw conclusions about the increase in Delhi's school truancy.
For example, since the MPI report lacks district-wise data for each indicator, it is not possible to infer from the report whether educational deprivation is in any way correlated with an increase in multidimensional poverty in certain districts of the capital.
Earlier this year, Sukanya Bose of the National Institute of Public Finance and Policy (NIPFP), an autonomous research institute under the finance ministry, co-authored a working paper detailing how 89 per cent of schools are run. He emphasized that the Delhi government is facing shortage of classes in the school.
However, speaking to ThePrint, Bose said that the marginal increase in the data on lack of school attendance in Delhi is not enough to draw any major conclusions.
He said, "At very low levels, this indicator is proving sticky. I would not pay much attention to the small difference in the data (of NFHS). It has to be noted that there is a similar trend in many other relatively smaller but advanced cities like Puducherry and Chandigarh.
However, Bose said that the NITI Aayog's definition of lack of school attendance was too narrow, and thus grossly underestimated the problem.
"The attendance indicator in the NFHS is quite "loosely defined", the NITI report limits it to only 'school-age children', meaning children five years and above, and this Till the age they go to school or not. He will complete class 8.
He further added, "Pre-school has not been considered at all, although data is available in NFHS. This is the reason for the high attendance rate (low absenteeism). It underestimates the problem!"
Bose said, "The differences (in deprivation) between the districts of Delhi and the rest of the areas are significant. Are we slipping further? Hard to say based on this attendance indicator. Some may say that the sample size is not large enough for district-level analysis."
Bose suggests that "there should be an all-India household level survey" like the National Sample Survey (NSS) round on education, to assess the true size of the problem of educational deprivation in India. He said that such a survey should include several indicators.
"It is absolutely necessary in the post-Covid context and in the absence of census information," he said.
(Editing: Rishabh Raj)
(Click here to read this news in English.)
---
ALSO READ: SAD chief thanks PM for discussing Operation Blue Star, also rubbishes alliance rumors
---