New Delhi: In classrooms at Ambedkar University Delhi's Kashmere Gate campus, where most of its 3,500 students are enrolled, walls are discolored due to leakage. The entire ceiling of the General Studies room is covered with black mold. The room itself looks like a renovated warehouse, with unused furniture stacked in one corner. Sewage water is also leaking from the toilets and they too are unusable.
15 years after its establishment, the Delhi Government-run Dr. B.R. Ambedkar University — directed by him aims to focus on research and teaching in the social sciences and humanities. Ambedkar's vision of linking equality and social justice to excellence is in crisis.
According to AUD insiders, along with its crumbling infrastructure, research standards are also falling and conflicts between the faculty and the university administration are also increasing.
The multi-campus university was ranked 96th out of 3,565 institutions by the central government's National Institutional Ranking Framework (NIRF) in 2016. After 7 years, as the list of evaluated universities grew to 8,565, it dropped out of the top 200 altogether (ranks above 200 are not mentioned on the NIRF website).
The university was awarded 'A' grade by the National Assessment and Accreditation Council in 2014. Fast forward to 2022, the grade had dropped one notch to 'B++'.
Good journalism matters, even more so in times of crisis.
ThePrint brings you the stories you need to read, from where they're happening
We can only continue if you support us with our reporting, writing and photographs.
subscribe now
Data shared by the Ambedkar University Faculty Association (AUDFA) shows that 17 faculty members have resigned in the last two years. Meanwhile, two dozen other faculty members have been protesting daily for the past three weeks to express their dissatisfaction over the way the university is functioning. To ensure that students' studies are not affected, the protest has been included in the one-hour lunch break.
"We don't have any common area where we can sit and do self-study or even relax between classes," said a student on condition of anonymity.
She further said, "Even in the study area, there are only 20 seats which have to be shared by all the Master and PhD students. "Our classes are not on time, and, after Covid, the semester schedule is all over the place."
Assistant Professor Mogolan Bharti, who is also the official AUDFA spokesperson, said that the administration has on several occasions prevented professors from participating in international conferences and scholarships.
This allegation was refuted by Dean Academics Professor Satyaketu Sanskriti, who said that he had given permits to 98 faculty members to participate in national and international conferences and research recognition awards were given to 24 faculty members in the last 2 years.
Vice-Chancellor Anu Singh Lather acknowledged the institute's falling NAAC and NIRF ratings, but said AUD is relatively young and is working to get back into the rankings.
Referring to the poor condition of the infrastructure, Lather said that he has spent more than Rs 15 crore in the last four years for the maintenance of the institution. However, he said, they could only do so much as the campus was set up in a heritage building.
He said that there are plans to establish a new campus, but they are waiting for money from the Delhi government.
In 2022, the Delhi government had sanctioned Rs 2,306.58 crore to accommodate 26,000 new students in the new campus. However, according to university officials, the Delhi government cabinet has not yet approved this amount.
ThePrint reached out to Alice Vaz, secretary of higher education in the Delhi government, for comment on the challenges faced by the university, but she did not respond.
---
Also read: Bill to reduce autonomy of IIM introduced in Lok Sabha – President has the power to appoint, remove the director
---
disrepair and neglect
Dr. B.R. Ambedkar University Delhi was established in 2008. While its main camp is located at Kashmiri Gate, two others are at Karampura and Lodhi Road. AUD professors said that plots for setting up campuses in Dhirpur and Rohini were also identified in 2018, but there has not been much activity since the foundation stone was laid.
Kashmere Gate Campus is located in a 400-year-old heritage building complex on Lothian Road, near the metro station.
The university's website describes it as a "spacious 3-acre lush green campus in the heart of Old Delhi".
"The AUD campus has good infrastructure in terms of well-stocked libraries, reading rooms, online magazines and computer labs," it said. "Hostel facility is available only for girl students. "The classrooms are equipped with audio-visual equipment and Wi-Fi connectivity is available throughout the campus."
However, when ThePrint visited the campus on August 31, signs of disarray and neglect were evident.
A portion of the ceiling of the students' reading room — which collapsed in December 2022 — has still not been repaired and has been replaced by a large hole. The rest of the ceiling is infested with mold – a known health hazard.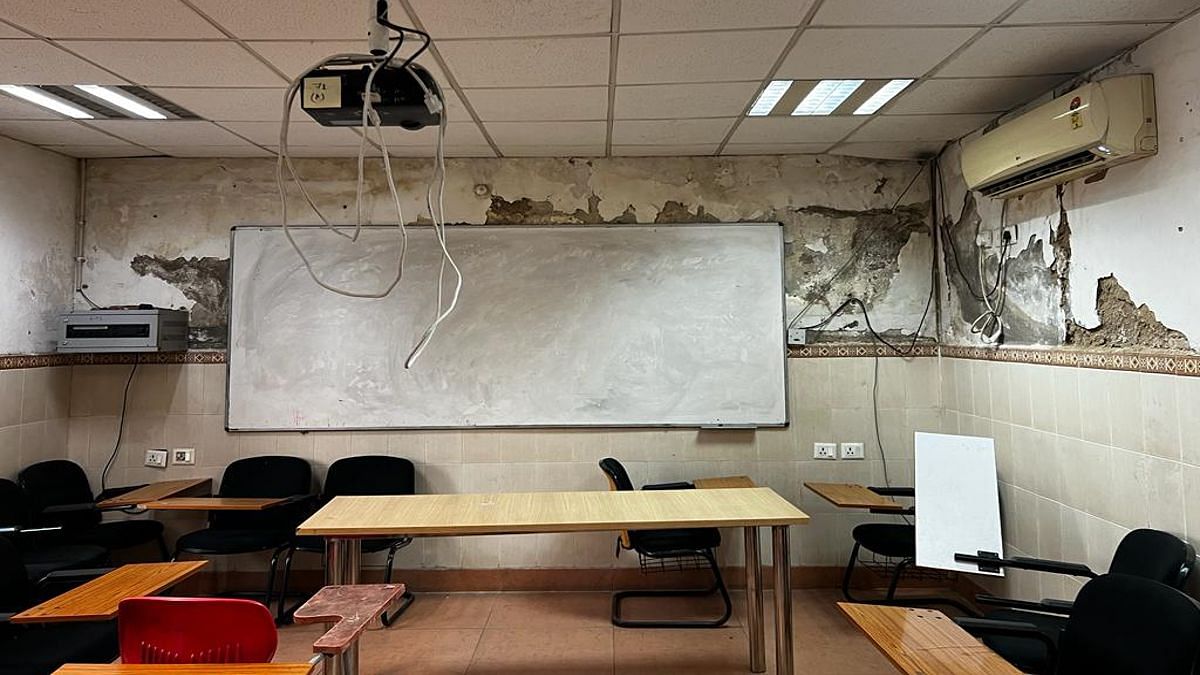 Speaking to ThePrint, students and faculty members complained that they did not have adequate drinking water facilities.
"The walls of our classrooms are collapsing, we are inhaling huge amounts of fungus as there is heavy fungus on the ceiling of the reading room and there is no drinking water on campus," said a Masters student.
Another said, "We carry our water bottles with us and avoid using washrooms as they are broken and sewage water often leaks there."
Students and faculty members claim that they have fallen ill several times due to the unsanitary conditions on campus.
"Managing the campus space has always been difficult as it is an Archaeological Survey of India (ASI) marked heritage building and no structural changes could be made to it," said one of the founding faculty members.
"But the condition of the infrastructure has never been so bad in the last few years," the faculty member said.
AUD Registrar Dr Nitin Malik said his hands were tied due to the heritage status of the building. "Considering that it is an ASI-protected building, we can only make cosmetic changes to the structure," he said. However, we have written several times to ASI and PWD (Public Works Department) asking them to repair the building, but we have not received a positive response."
---
Also read: Central universities will also follow the path of IIT to raise endowment funds, but challenges are big.
---
Decline in rank and research
Apart from the dilapidated infrastructure, AUD insiders say the university is struggling with its stated objective of being a center of academic excellence.
He said that due to shortage of faculty members, classes were delayed and teachers were overburdened. Members also say that the number of research publications and collaborations in the university has reduced.
NIRF data submitted by AUD shows that, in 2018-19, the university had 40 research projects worth Rs 7.07 crore. In 2020-21, this reduced to 10 projects worth Rs 79 lakh.
Professor Sumangala Damodaran, who taught at Delhi University before joining AUD, said the decline in rankings has affected the amount of research projects the faculty get.
He said, "I have worked on many collaborative research projects with academics from BRICS countries and I have friends there. When we tried to jointly apply for some grants for research, I discovered that I was not eligible because AUD no longer met the ranking criteria requirements."
He said this is a "big loss". "Research projects not only bring funding but also provide a great learning opportunity to students," he said.
However, the university said the number of research projects has declined mainly due to Covid and the lengthy application process for foreign research projects.
"In 2018-19, there were 32 projects and many projects were at the completion stage," he said.
It said that due to Covid-19, "funding opportunities were impacted during 2020-21".
The AUD said major projects of the University Grants Commission (UGC) and the Indian Council of Social Science Research (ICSSR) and other national and international funding agencies have been put on hold.
"This affected two to three years of work," it said. "Despite this, there were 23 projects in 2019-20."
AUD said that in 2022, the faculty applied for 24 projects with ICSSR and 2 were approved. "The University has taken steps to fund the remaining projects from the University budget."
---
Also read: Modi government's school survey shows 3/5 districts in India have digital learning score less than 30%
---
'Tug between faculty and administration'
In this background, teachers have been on protest for three weeks and allege that no effort has been made by the AUD administration to negotiate.
In a press statement on August 24, AUDFA said, "AUDFA protests administrative indifference towards the demand for convenient and inclusive governance."
The organization said they "particularly criticize the bureaucratic impasse within the university, which has led to huge delays and non-functionality in the university, as well as the lack of functional autonomy in the schools and centres".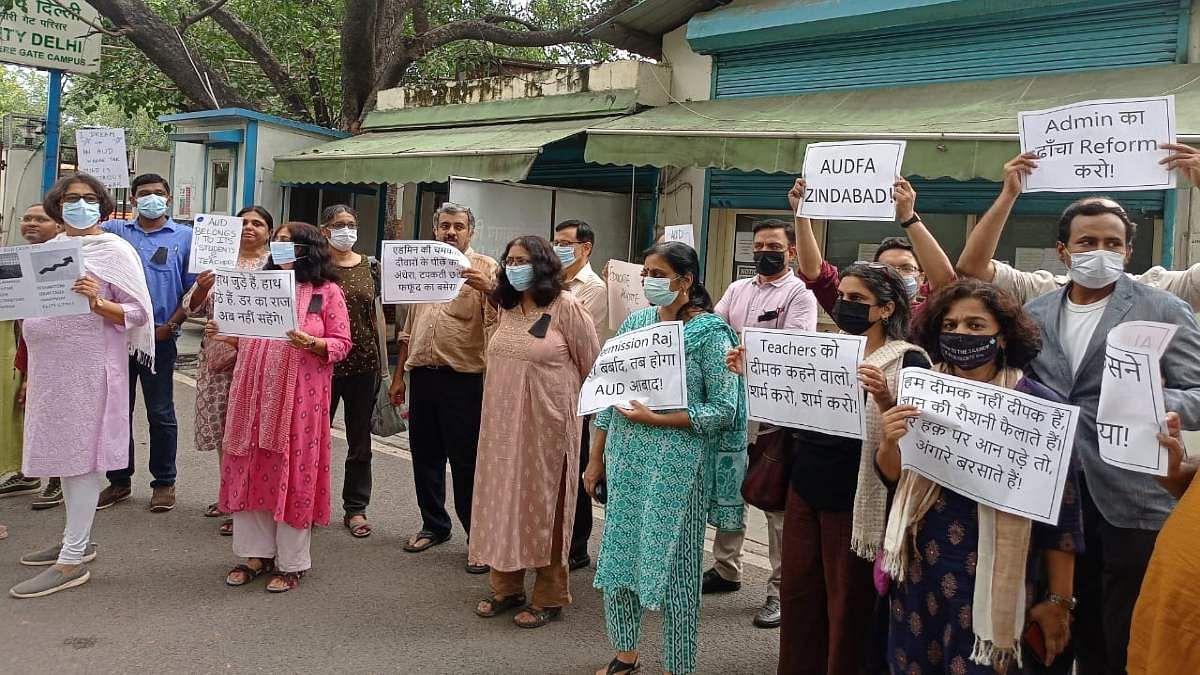 "The association protests the regressive interpretation of UGC rules for faculty promotion, lack of clarity on service rules and arbitrary application of rules relating to medical benefits to the teaching community."
Teachers also accused V-C Lather, saying she has little trust in the staff and is known to use "objectionable language" against them.
At the steering committee meeting held on July 27 this year, Lather reportedly said that "80 per cent of the faculty members were termites". However, Lather has denied this allegation.
Talking about AUD's performance with respect to NAAC and NIRF, Vice Chancellor Lather said that the parameter on which the university scored poorly in NAAC was research publications (0.94).
"As the accreditation body is tightening its norms, the university is trying to keep up with the changing evaluation criteria," he said.
He sought to clarify that the university was assessed by NAAC in 2019 "before his tenure began", but said he expected the grades to improve with the changing NAAC norms.
Regarding the decline in NIRF rankings, he said, "Ambedkar University is only 15 years old and many institutions have been added to the rankings over the years. "It is a challenge to compete with public and private universities with larger funding and campuses."
(Editing: Falguni Sharma)
(Click here to read this news in English)
---
Also read: Keeping an eye on the study of Hindu scriptures and job market, what is there in the new Hindu Studies course of DU
---